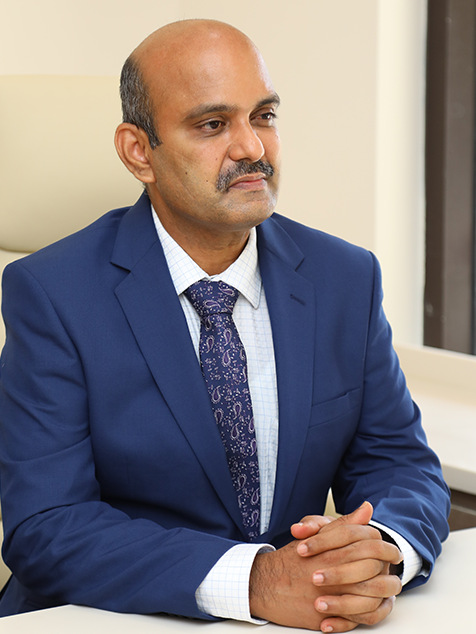 Dr. C. Lenin
Managing Director
Orthoinde Hospital
Education Background
DR.C.LENIN is the chief orthopaedic surgeon and Managing Director of DR.LENIN'S ORTHOINDE HOSPITAL, CHENNAI. Hailing from Namakkal, a small town in Tamilnadu, Dr.LENIN proved to be an extraordinary student from his school days. True to his potential, he passed out as a state topper at school and secured medical degree from the GOVT. TAMILNADU MGR UNIVERSITY as one of the best outgoing student .M.P.Shah medical college , Gujarat is his "ALMA MATAR" for post graduation in orthopaedics, which he secured by his maiden attempt in All India Post Graduate examinations. In the year 2000 he began his carrier at MIOT hospital, Chennai.
He noticed after open procedures, the joints took months and years to recover and full functional recovery was always questionable. Further more many sports personnel lost their carrier. At that point of time, key hole surgeries were well established in abdominal surgery but not in orthopaedics. Hip replacement was a common procedure but knee and shoulder replacements were not.
It was the era when major " breakthrough" was happening in the western world in these particular field . As a passionate surgeon Keen on innovations he decided to bring these to our country. His travel transatlantic and transpacific to various centres of excellence, working with stalwarts in this field horned his expertise.He is the first Indian surgeon to be trained by DR. JEAN LOUIS BRIARD and DR. LAURENT LAFOSSE, French surgeons, Who are considered to be the 'GODS' of knee and shoulder surgeries. As a favourite fellow of DR. JEAN LOUIS BRIARD he visited him often mastering the art of minimally invasive computer navigated rotating platform knee replacement and arthroscopic surgeries of knee. DR.Lafosse is his mentor for replacement and arthroscopic surgeries of shoulder . Dr. Russ nevin , Dr. David Fischer from USA, DR. Anders Ekelund from sweeden, Dr. Labrique from Belgium, Dr. Joe de beer from south Africa, Dr.van Dijk from Holland ,Dr. Peter Campbell from Australia ,Dr. Andreas Imhoff and Dr. Heiko Graichen from Germany are few of the stalwarts whom he had visted as a fellow to augment his skills and expertise.
He is the first to do many pathbreaking orthopaedic surgeries in the country. A few to mention are , computer navigated minimally Invasive ( muscle sparing ) rotating platform knee replacement, transportal arthroscopic ACL reconstruction, Arthroscopic rotator cuff repair, Bankart repair with brachial plexus catheterization and Arthroscopic popliteal cyst decompression . He has created a benchmark in knee replacement with his minimally invasive subvastus ( muscle sparing ) rotating platform technique. This technique alleviates all the fear in the mind of patients and gives faster and full functional recovery with in a month. These rotating platform knees last for more than 20yrs and the best fact is patients never feel that the knee is artificial. He also rejuvenated the lives of many sports person and youngsters through his pioneering effect in arthroscopic surgeries of various joints. He established the department of arthroscopy and knee Surgery at MIOT over a decade and made it as a flagship department . Dr. LENIN then moved on to Apollo hospital, Greams Road, Chennai in the year 2009 and repeated the same feat. Over the last two decades he had been to all the continents in the world, and established these specialities in various hospitals inside and outside India. He has performed more than 20,000 joint replacements and arthroscopic surgeries of various joints which makes him a rare breed of surgeon with vast experience in both these specialities.
DR. LENIN'S ORTHOINDE HOSPITAL is his endeavour bloomed on September 9,2021 out of his immense experience and expertise . This is a state of the art, orthopaedic super speciality boutique hospital at Annanagar , Chennai. The Mission and vision of the hospital is to render world class orthopaedic treatment accessible and affordable to the people of all strata of the society.